Custom Cabinets in Glendale Arizona
Made To Order Custom Cabinets, Kitchen Cabinets, and Bespoke Furniture in Glendale Arizona
The Custom Cabinet Professionals
Made to Order Custom Cabinets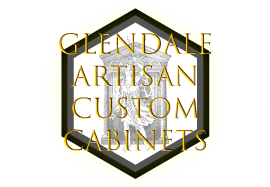 Revitalize your home and kitchen with exquisite hand-crafted custom cabinetry. Glendale Artisan Custom Cabinets prides ourselves in providing our customers hand crafted artisan custom cabinets in Glendale, Arizona. We've provided custom cabinets to many upscale commercial and residential properties in Glendale, and the greater Maricopa area. All of our custom cabinets are built right here in Glendale, and we likewise provide bespoke furniture like bookcases, bathroom vanities, and closet shelving. Our goal is to bring to life our client's vision, and make stylish and space saving cabinets.
Cabinets are prominently featured in your home, and it is an important part of any remodeling endeavor. A home remodel is an important event for your family and setting up your cabinets to match the style of your property is an essential element of the process. Our cabinets are made to order right here in Glendale, and we are committed to providing stunningly beautiful and space saving pieces of custom cabinetry. From dovetailed boxes, soft-close doors, everything is hand crafted from the finest woods and hardware. All these tiny details pave the way to produce a more functional, classy, and polished cabinet.
Call us now and we can start helping you design the custom cabinets of your dreams. You can work with one of our custom cabinetry specialists to help you express your vision for your home, and we will walk you through the process from design to installation.
Glendale Custom Cabinets
Made to Order Custom Cabinets
Handmade Kitchen Cabinets
Custom Bath Cabinets
Handmade Drawers
Bespoke Entertainment Centers
Handmade Shelves
More Information
Information about Our Services
Renovate your kitchen and home with high quality custom cabinetry. From kitchen cabinets, hardwood countertops, bath cabinets, to floating shelves. Many of our clients love creating a matching theme for the furniture throughout their home, reach out to one of our carpentry specialists to get the planning process started. At Glendale Artisan Custom Cabinets we pride ourselves on customer service, and we strive to turn your vision into a beautiful new living space.
How Our Process Works
A. Start the Plans and Furnish the first Estimate
The first step is speaking to an experienced contractor at Glendale Artisan Custom Cabinets about what you want from your custom cabinetry. If possible, the best starting point is getting a rough sketch of your space or a copy of your architectural layout. Through this first phase of analysis, we start developing the initial estimate. These first discussions will help us create the plans and create a definitive vision.
B. Completing the Final Designs
During the design phase we will start creating the design based on your input and feedback. This can be done either through phone or by email, or we can join you on-site consultation to confirm the existing space measurements. During this phase we can further cement a clear vision about the project's approximate deadline, materials, and layout. We also give you a more realistic cost estimate.
C. Final Draft and Deposit
During this phase we will furnish a clear payment schedule and we will ensure to give you advanced notice for any upcoming payments. The payment process is scheduled to coordinate with the remaining steps the production of the cabinetry, and the on-site installation.
Once you have approved the final plans and submit the initial deposit, the work begins! We will give you the final drawings that have the measurements and required materials. Our process is designed to ensure that we have a full understanding of what you want, and to have a precise plan and schedule for installing your cabinets in a timely manner. Once your give us the go ahead, we move forward to fabricating your cabinets.
D. Putting It All Together, and Final Installation
This is the final and most exciting step. We now build your custom cabinetry and hand-crafted furniture right here in Glendale. After your cabinets are done, we deliver on site for the installation. The final deposit is due when the entire project is completed, which normally takes between 4 to 8 weeks. How long your specific project will take really depends on your specifications, the number of cabinets, the detailing, woods you select, and labor time.
Custom Media Centers
Here at Glendale Artisan Custom Cabinets we are specialist in custom cabinets, but we also produce other bespoke furniture such as custom media centers, aka custom entertainment centers. Custom entertainment centers can cover unsightly wiring, remote controllers, and other related gear, to clear your living room from clutter and create a relaxing mood. Imagine being able to have a neat place to store media equipment, wires, and remotes and in its place is a beautiful piece of hand-crafted furniture, which elevates the overall mood in your living room.
Most store bought media centers are made of particle board, and don't come up with your specific equipment storage in mind. At Glendale Artisan Custom Cabinets we only use the best quality hard wood to build your custom media center, and this will make your media center look fantastic today, as well as stay looking great years into the future. Entertainment centers can also be customize made to house all your cables, which can seriously organize your living room.
Only The Highest Quality Materials
An amazing idea and well-made plans is the starting point for an elegant custom cabinet. A great idea needs to have the best woods to make a cabinet that will be as beautiful as the concept. By building with high quality wood and cabinetry hardware, we can be sure that you have an amazing cabinet, and an additional benefit is hardwoods are much more durable and will stay looking great for a much longer period of time.
Here at Glendale Artisan Custom Cabinets we only build with the best cabinet hinges such as Salice, Grass, and Blum. Our specialist at Glendale Artisan Custom Cabinets have been building customized cabinets in many different styles for years. Whether you have a cabinet design that has stood the test of time, or the single slab, sleek look of a modern cabinet, we always try to give you the most storage and greatest style.
Custom Bath Cabinets and Vanities
If you're looking for a way to revitalize your bathroom with a more luxurious aesthetic, than getting custom bathroom cabinets and vanities is a great place to start. While you are coming up with the design for your bath cabinets, you can come up with a list of all your storage requirements. Do you need a place to store different towels? Do you need the space for makeup application built into your vanity? Do you have limited square footage in your home, and really need to optimize the storage space? Step two would be to have a consultation with one of our professional woodworkers at Glendale Artisan Custom Cabinets to incorporate your needs in the custom cabinet.
You can even use your bathroom vanity for storage space as well, we can help you install drawers of all sizes and shapes to give your bathroom an uncluttered, and clean feel. A handmade bath cabinet or custom vanity can transform your bathroom into a relaxing, elegant, and organized space. Your bathroom can be a luxurious retreat, where you can take it easy with a peaceful warm plant bath to forget all your cares!
Stains and Finishes
After you have chosen the wood type, size, and type of cabinet, you can add more character to your cabinets with a finish. A finish is used to process the surface of the wood to give it a few desirable characteristics, such as improved protection and durability, and changes to it's aesthetic.
Waterborne finishes are used to create scratch resistant surfaces, and it is extremely eco friendly. Waterborne finishes are fast drying and can mirror the look of many other stains and finishes. If you have a piece where you love the natural look of the woods patterns and colors, waterborne finishes is a great choice.
A glaze finish adds a layer on top of painted or stained wood, which is used to get a desired color or texture from wood. If you like a glossy look, glazing your cabinets will give it a shine, as well as add damage and moisture protection. Painting your cabinets will completely cover the wood grains, and you can completely change the color of the wood to your desire. An extremely popular look is simply having cabinets painted white. There is no need to overwhelmed, we will collaborate with you closely to ensure you have choose the right option for you.
We're Here To Answer Your Questions
Reach out today to speak with a cabinetry expert, or if you want to setup an appointment to get a quote on your next project.